About Me
Hello,
My name is Isabel (aka Itsybel, Itsymama, Abuela, Grandma, Mom & Honey) -- I am the Owner and Professional Custom Scrapbook Designer/Artist. I opened my scrapbook store in September 1993 out of my love for scrapbooking, genealogy, the dream of owning my own business and wanting to help others preserve their photos and memories at a price everyone can afford. Over the years, my dream grew into my Scrapbook Retail Store & Custom Scrapbook Design Service, not only selling quality product, but preserving and teaching others how to preserve their photos/memories.

Being a wife, daughter, mommy to 3, step-mom to 2, sister to 2, grandma/Abuela to 7, and friend to many, I know how important it is to preserve precious family photos and memories. It's a special moment when I share my albums with family and friends where they get to know me more through my family stories and photos and how they are an important part of who I am today. In addition to the layouts/samples in my gallery showcasing my scrapbook design skills and style; it also introduces you to my family and friends that I cherish dearly.
My Goal
Knowing how busy life can be, leaving you with no energy at the end of the day to preserve your own photographs and memories; means they end up in shoeboxes, remain in their developer packets, in cameras/phones or stored on flash/SD drives not being enjoyed, eventually getting lost with the memories that are so special. That's why I am so passionate about my Custom Scrapbook Design Service. Everyone should pass their memories & heritage to their loved ones; not boxes/envelopes/drives of unidentified photographs and forgotten memories they currently have.
My Other Pastimes
Scrapbooking is just one of my many pastimes. I also love to crochet prayer/comfort shawls & afghans for those needing them. I'm also a quilter, love working in my flower gardens filled with both flowers & veggies, going fishing with hubby, as well as any and all handmade craft. I especially love the time I spend with my family and friends creating memories, and taking candid photos.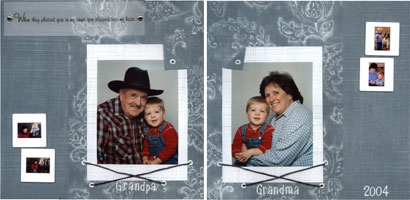 Well, now that you know a little about me . . . I hope it's helped you feel more comfortable in hiring me to be your personal scrapbook designer. Lets start preserving your family's photographs, memories & history. I'm looking forward to meeting, getting to know you and your family through your photos and memories as I preserve them in your family scrapbook album.
Sincerely,
Isabel

Don't leave boxes, flash drives, camera cards or computer files of unknown photographs with forgotten memories, stories or family history
Leave behind professionally designed scrapbooks/photo albums your family will treasure through future generations.
Need Help Fast?
I can design your personal scrapbook/photo album or teach you how. I sell and/or use only the highest quality materials available to ensure the safety of your photos/memories. Give me a call to discuss your time schedule and work it out to both our schedules.
Thank you for visiting my site.
I'm looking forward to helping you preserve your family photographs and memories.
Isabel